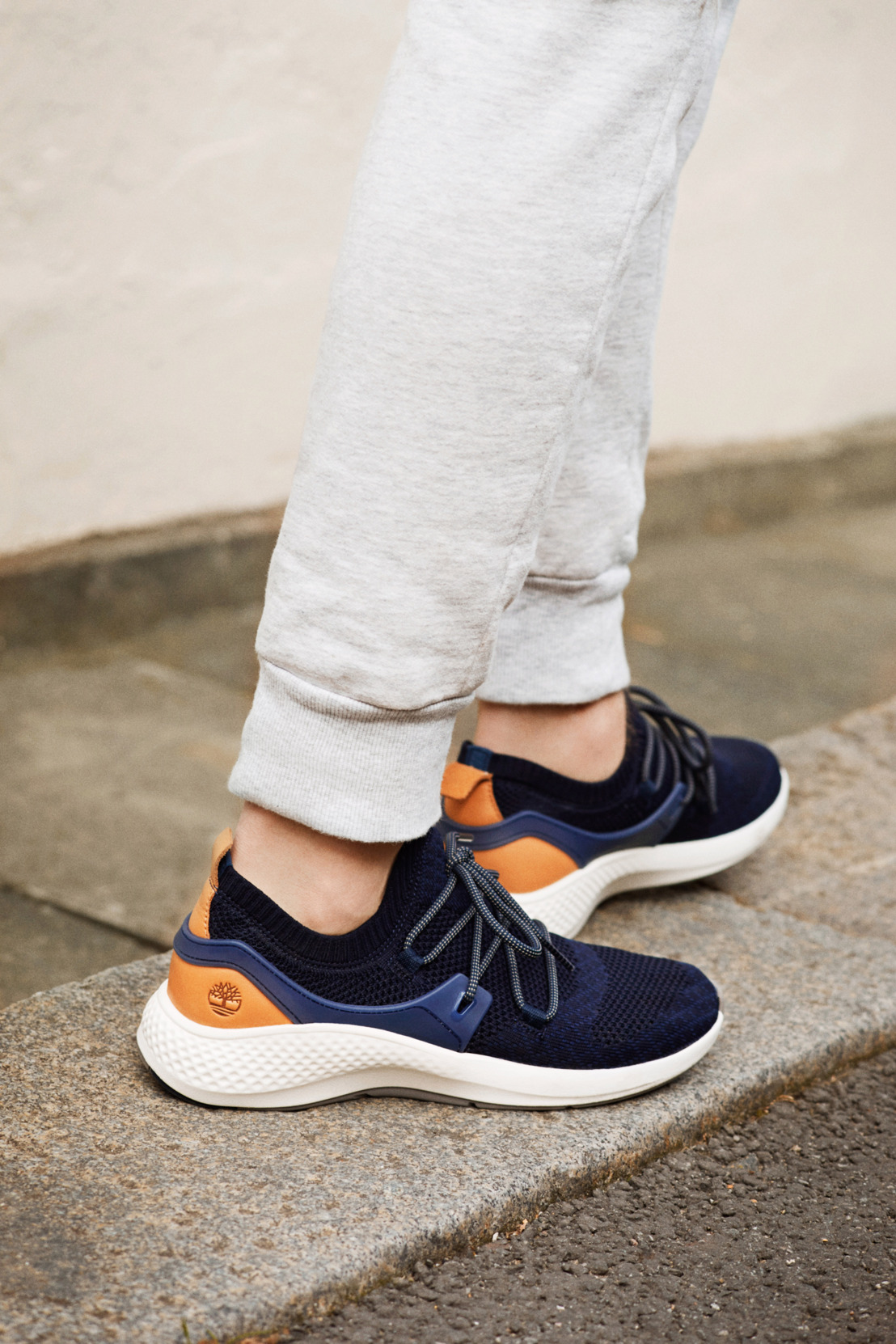 Timberland Men :: SS18 :: Flyroam
Infinit agility
The Flyroam collection is designed for those who want to get there on foot. As the name suggests, the innovative design allows wearers to roam free and be lighter and faster on their feet.
Flyroam Go is the ultimate footwear to navigate the urban metropolis. The upper is moulded from a single piece of woven jacquard which offers a snug sleek fit. The unique construction gives lightweight support and the stretch fibres provide a breathable comfortable upper.
Flyroam Go are designed with sock-like ribbing around the ankles and are set on a sculpted white rubber sole. The taslan laces are a nod to the brand's outdoor adventure heritage and the moulded plastic hardware, complemented by seamless eyelets on the shoelace front, give a contemporary finish. Their sleek design is completed with a leather tab at the heels. The cool, urban aesthetic strongly illustrates the high functionality behind the Flyroam collection; lightness and agility.
Flyroam Go is styled with Sport Lifestyle, a collection inspired by flourishing underground culture and contemporary trends and designed for the independent youth that want to roam free and travel all over urban landscapes without any constraint.
Flyroam One is a classic linear sneaker, constructed with one tonal colour and set on a sculpted white rubber sole. They are moulded from grainy textured suede overlaid with panels of smooth supple suede. They are cut from only the upmost quality of premium leather from LWG Silver-rated tanneries. The contrasting textures are complemented with subtle top stitching. They are completed with padding and a pull tab at the heel. The laces are looped through seamless eyelets with singular feature gunmetal eyelets at the top closure. Flyroam One are constructed with Timberland's Ortholite® ergonomic footbed which provides cushioning and comfort in every step.
Both shoes have been developed with the AreoCore™ aerodynamic soles, a unique energy system which provide proven energy return and durability. Both are available in a range of earthy, neutral colourways for easy styling.
The technology backing these highly wearable and urban designs gives freedom, movement and comfort which will ensure the ongoing loyalty of return Flyroam customers.
Flyroam One pairs with Timberland Active Basics, a range of premium, sleek, laser-cut outerwear pieces.
About Timberland:
Timberland is a global leader in the design, manufacturing and marketing of premium footwear, apparel, and accessories for the outdoor lifestyle. Best known for the original yellow boot introduced in 1973, Timberland today outfits consumers from toe-to-head, with versatile collections that reflect the brand's rich heritage of craftsmanship, function and style. Timberland® products are sold throughout the world in leading department and specialty stores as well as company-owned retail locations and online. Timberland's dedication to making quality products is matched by an unwavering commitment to innovate and operate in a responsible manner – in terms of our products, the outdoors, and the communities around the globe where we live, work and explore.